BIEA STEM 2023 Forum Empowers Youth to Drive Sustainable Urban Development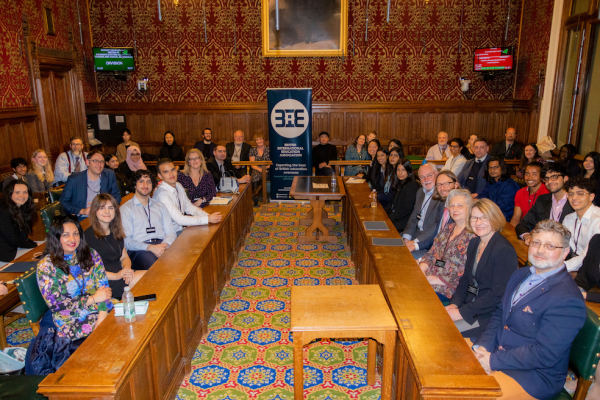 London, United Kingdom – March 27, 2023 – The British International Education Association (BIEA) successfully conducted an inspiring session on the BIEA International Youth STEM Innovation Competition on March 21 at the Houses of Parliament. The event, centered around the theme "Greening Cities, Sustaining Life," united experts, city representatives, educators, and young innovators to discuss sustainable urban planning, environmental challenges, and the crucial role of STEM education in city development.
MP Grahame Morris inaugurated the forum, stressing the significance of technology and STEM skills in shaping the future of sustainable public transport systems. He said, "The future of city transport is dependent on technology; we need a sustainable green public transport system to reduce the impact of climate change, and we need to ensure our young people have the STEM skills to develop solutions for our cities!"
Embassy and mayor representatives from subject cities sent in their best wishes for the forum, expressing their excitement for the innovative solutions that will emerge from the competition. Chancellor Jeremy Hunt also extended his good luck to all young people participating in the challenge.
Renowned experts like Prof. Yu Xiong from Surrey University demonstrated the transformative power of AI in devising innovative solutions, while Prof. Tim Broyd from UCL emphasized the importance of considering historical structures in sustainable city planning. He stated, "Sustainable city structure is not just about new buildings or new roads; we must consider existing historical structures because stored carbon can create a much bigger environmental impact than people think."
Dr Koen van Dam from Imperial College presented case studies on residential energy demand and electric transport, underlining the importance of collaboration among stakeholders and experts to achieve city sustainability. He commented, "The key takeaway message is for different groups to work together, for different stakeholders and experts to work together to achieve city sustainability."
The event also announced 12 subject cities for the competition, with a special session dedicated to rebuilding Ukraine sustainably. A focus on the city of Slavutych highlighted the city's challenges and aspirations in infrastructure and the loss of creative workforce due to the ongoing war. A symbolic 'Tree of Life' was created to mark the invasion of the city a year ago with each delegate tying a coloured ribbon representing peace, hope, love, youth and diversity.
Nikki Collins, CEO of BIEA, called for bold action on climate change and environmental degradation, announcing the upcoming Dialogue 4 International Youth STEM (D4ISY) Forum & Award Celebration in autumn. She said, "Today, the costs of climate change and environmental degradation are affecting cities around the world. We urge everyone to take bold action, and I have no doubt our youth and young adults will be leading us as we move forward."
The BIEA STEM 2023 forum served as a unique platform for stakeholders to engage in discussions and explore innovative solutions for greening cities and sustaining lives, empowering young people to create a more sustainable future.
About the British International Education Association (BIEA):
The BIEA is a non-profit organisation dedicated to promoting collaborative, real-world-relevant learning that fosters innovation and entrepreneurship. Through its programs, students develop transferable skills and the potential to create impactful solutions and a sustainable society for generations to come.
For more information about the BIEA and its initiatives, please visit https://bieacompetition.org.uk/2022-2023-competition/.
Media Contact
Company Name: BIEA
Contact Person: Media Team
Email: Send Email
Phone: [email protected]
Country: United Kingdom
Website: https://bieacompetition.org.uk/2022-2023-competition/